Design, creation and management of ICT infrastructures
In Italy, the coverage of high-performance networks is still insufficient, computer literacy levels are below the European average and the adoption of advanced digital technologies is uneven among companies and institutions.
Digital infrastructures are essential and strategic but a system-oriented measure is necessary to bring the country to its full potential. Italian companies can ensure progress, national technological sovereignty and strategic autonomy, while generating development opportunities.
BV TECH designs and builds secure, easy-to-adopt, flexible and efficient infrastructures.
BV TECH's objective is to propose solutions that are capable of achieving the right balance between business agility and business resiliency through a holistic methodology that is consolidated over years of experience, which integrates multidisciplinary skills with multi-vendor technologies.
Design, implementation, transformation and management of Application infrastructures while ensuring reliability, security and performance.
Hardware components and software solutions, from sensor design to analytics management.
Automation tools to support the effectiveness of infrastructure management processes to increase the reliability, security and performance of applications (management of over 40,000 server instances).
Web & Application Performance
Optimization of apps and websites' performances for a better user experience; implementation of traffic load "stress tests" with real-time data analysis.
Identity & Asset Management
Assistance in the management processes of Digital Identity, of Technological Assets, of Data for complete access governance, protection of your data and better use of your technological assets.
Managed Services & Outsourcing
Management processes of its customers' ICT infrastructures (over 40,000 server instances managed).
Services provided both at customer sites and remotely, by our Service Center in Grottaglie (TA). Inbound call management, ticket management, asset management, remote support and monitoring; also using tools made available by the customer.
Installation, maintenance and management of electrical, mechanical, data transmission and security technological systems.
Our streaming and video content management platform is innovative, interactive and customizable; it is designed to acquire, manage and distribute video content autonomously, securely, simply and efficiently.
Field Services – Professional services oriented towards monitoring activities, remote and "on site" technical assistance, management and maintenance of client systems of large organizations.
Integrated design of technological systems in the various fields of civil, industrial and energy engineering and of military applications. Works Management and Safety Coordination.
Complete technological set-up: audio-video direction and production, broadcasting, configuration, management and graphic customization of video communication platforms. Real and virtual scenography with multidimensional lighting special effects. Producing and editing interviews, video clips, theme tunes and backstage videos that can be viewed in streaming.
o Software that allows you to have a copy of your files safely in the cloud. Multi-platform solution accessible from any computer, smartphone and tablet. It is possible to have the installation on desktop and mobile devices and manage all data with a single account to access all files from any computer.
o Optimization of application performance and increase of infrastructure density in managing ever-increasing quantities of data. It helps improve data center hardware and software, enhancing the use of enterprise servers, both from a workload and associated cost perspective.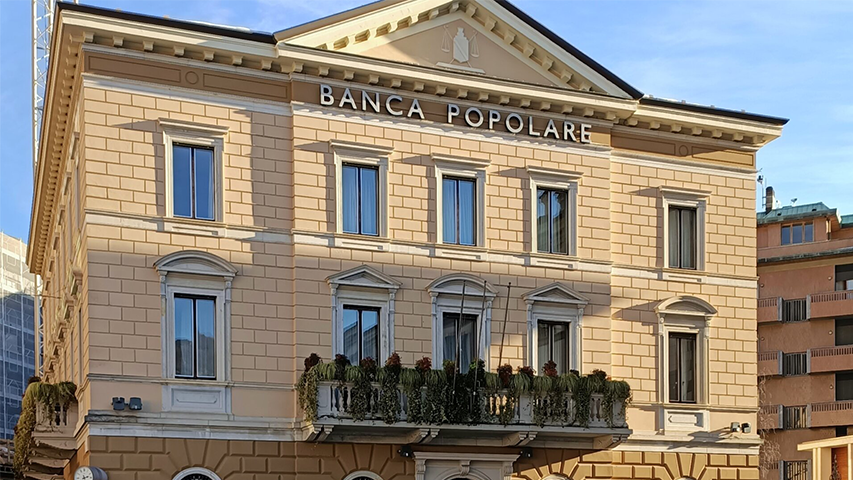 Banca Popolare di Sondrio
BV TECH, together with TIM, manages all information systems in co-sourcing through a specialized unit integrated within the context of the Bank itself.
MILAN:
Piazza A. Diaz, 6
20123 Milano
Tel.: +39.02.8596171
Fax: +39.02.89093321
Via delle Coppelle, 35
00186 Roma
Tel.: +39.06.6893461
Fax: +39.06.6893718
BV TECH S.p.A. | tax code and VAT number 05009770966 - info@bvtech.com